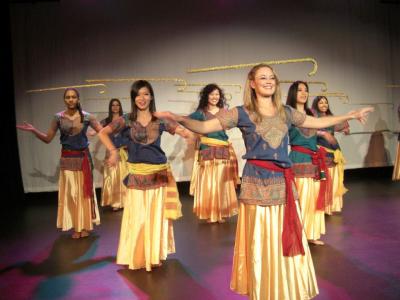 Interested in having the YBDS perform at your next event?
Want to find out more about belly dance events at Yale and in the community?
Booking us for your event: In general, we are happy to perform at charity events, events open to the entire Yale community, and events held by Yale organizations and student groups. Our troupe does not perform at private events, but we can help get you in contact with individual belly dancers who do, from our club and from the belly dance community in Connecticut!
Outreach and Education: Contact Nicole (pictured below) if you are interested in having Yale Belly Dance Society members perform for children and students, educational or cultural events, have questions about our community classes or workshops, or need someone to teach a topic in Middle Eastern Dance.
Individual Belly Dancers: Nicole and Jing are currently available for private bookings apart from the Yale Belly Dance Society. Professional dancers in the Connecticut area include Colleen Lawless (teaches belly dance at Payne Whitney Gym), Najla (former president of the Yale Belly Dance Society), and many more.
Interested in signing up for a belly dance class? Contact Adina.
Interested in joining the troupe? Auditions have ended for Fall 2013-Spring 2014. If you are interested in joining the troupe in the future, email yalebellydance@gmail.com in August or the first week of September for audition information. 
Keep up with our performances and other events: Like us on facebook!